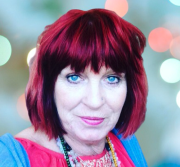 STAR
Psychic
"Let me help you see the path ahead & create miracles in your life"
About me
LGBT friendly. Om Sai Ram. I have been a Lightworker for over 30 years, and a professional psychic advisor and life coach for the past 20. I have given my life to being of service to people. I have been psychic since birth and I use Angels and the Holy Spirit - as well as Tarot and intuition to see your way forward. There is not a problem I have not heard.
Miracles do happen and with my guidance, you can achieve anything your heart desires. Let me help you see your journey and make sense of whatever is confusing you. I am here for you anytime - day or night. I want you to have peace of mind. I want to give you the kind of clarity that helps you feel relaxed. I know life seems confusing, but I am here to help. I will show you paths and opportunities you may not be aware of and instruct you on how to access them.
I can help you find clarification regarding a love affair or on career matters as well as how to allow manifestation from visualisation to occur. I have experienced many of life's problems such as suicide, death of a loved one, affairs and divorce. I specialize in helping clients reach new levels of understanding so that they can attract and manifest exactly what they want to in their life. A Reading with me will lift the veil and remove the obstacles blocking your path. I believe if you can dream it you can manifest it.
I am a published New Age writer and do regular live broadcastings in South Africa. My Readings are fast and quick and I relay the message exactly as it comes through. I am kind and compassionate and will help your life grow as you develop spiritually on your journey.
Come to me and let me help you ease your emotional pain or turmoil. I am experienced in all matters of the heart and there is not a story I have not worked through. I can assist with important business decisions and issues with Soul Mate or Twin Soul relationships. I can help you work with the Universe to manifest the reality of your dreams.
My Language
English
My Expertise
Psychic Reading
Tarot Reading
Love & Relationships
Fortune Telling
Dream Analysis
Astrology Reading
Money & Career
Life Guidance
Top Rated🥇
My Tools
Astrology Chart
Tarot cards
I-Ching
Crystals
Psychic awareness
Energetic Connection
Quantum Energy
My Abilities
Clairvoyant
Aura Reading
Clairaudient
Clairsentient
Pet Psychic
Psychic
Astrologer
Life Coach